Window Framing
Window Sizing
Unfortunately not all windows are created equally. Some window manufacturers listed sizes do not reflect the actual size of the window but the size of the framed hole they will fit while others do not. This can create problems at the time of installation. If the framed area for the window is too large you will not get a proper fit and excessive shims will be required to get the proper fit. If the window is too large for the hole then, ouch! Our best advice is to know who your window vendor is before you start and verify your measurements with both parties before you start your project.
Structural Integrity
Most homes in Arizona have walls that are built from an array of vertical supporting columns called studs. Studs are placed close together, most often spaced 16" from center-to-center or 24" from center-to-center. Spacing is ideal for wall coverings on the inside and outside of the home such as plywood and drywall because these materials are generally 4 foot by 8-foot in size.
The problem is that this narrow stud placement makes only a narrow opening for windows and doors. If your remove some of the studs to create a larger opening the wall cannot bear the load of the trusses that it is supporting properly and there could be catastrophic results. Happily, there is a simple solution to this problem, transfer the load to the surrounding studs using a header. The header beam is then attached to other reinforced studs close to the edges of the new opening. This ensures that the wall maintains it ability to hold the desired weight and gives the aesthetic appeal of a window where it is desired.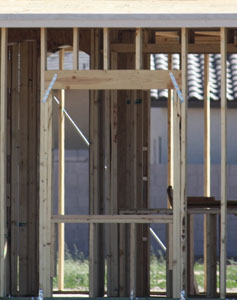 Valley Wide: (480) 291-1112
Tucson: (520) 505-3499