Arizona Home Remodeling Services
Is it time for you to finally plan that home remodeling project? Are you dying to finally finish your basement office or that new back porch? If you answered "yes," then Whitton Framing, Arizona's residential framing specialists, can help you get moving towards the changes you have been waiting for.
Getting motivated to move forward on home remodeling project can be daunting with all the horror stories from your friends and neighbors. These horror stories can be a passing memory if you consult the right professionals. Our prices are affordable and our quality of work is unbeatable. Whitton Framing will handle your home remodeling needs. No matter what the size from a simple wall to a large remodel, Whitton Framing will help you plan and complete it in a professional manner.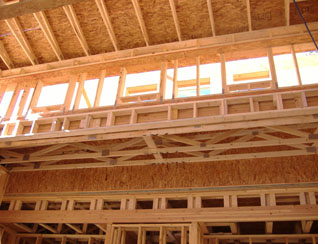 FRAMING YOUR PROJECT
Whitton Framing can help you with every stage of your project from the concrete to framing and plumbing. The concept of framing is quite simple but if it's not done correctly everything else can be problematic. Improper measurements or a wall that is not plumb can turn your dreams into a disaster.
Every detail from windows to outlets to that recessed cabinet in the bathroom need to be considered in order to make your job a success.
HAVE CONFIDANCE
Don't be intimidated by a home remodeling project. Whether it is something large, like the remodeling of your entire residence, or a smaller project like a porch or pool house, Whitton Framing can ensure that your project comes off without a hitch.
Contact us right a way to provide estimates and get you on your way, contact Whitton.
Valley Wide: (480) 291-1112
Tucson: (520) 505-3499