Roof Trusses
History
Years ago, homes were built with flat roofs instead of the modern triangle or A-frame shape we see today. Building a flat roof was much simpler and less expensive than a truss type roof and people did not understand the problems that would have been avoided by a properly engineered roof truss.
Over time people learned that a flat roof was not able to withstand the various types of weather and they began to collapse over a few years of use. At this point the housing industry began to adopt the standard timer roof truss that we see today.
How are they made?
Roof trusses are traditionally made from kiln dried timber. Trusses are made up of various pieces called chords that are connected together with special metal nail plates creating a strong web. This method of engineering creates a very strong structure that is capable of supporting a tremendous weight over long distances. Depending upon the roofing requirements and the distances that your home will span the design of the truss may change. Trusses are designed to fit your home exactly and therefore it is very important they fit perfectly to ensure proper support of roofing and various weather conditions.
Several aspects of a roof truss are taken into account. A truss must be lightweight as to not over burden the home's supporting walls but it must be strong enough to serve its purpose. These competing problems are overcome by drying the lumber in a kiln to reduce its weight and timber that has been strength tested and graded is used. In addition, a special design to balance the weight of the roof is engineered precisely. A disastrous collapse can occur if changes are made to a truss without the knowledge of a skilled designer.
Safety
Timber roof trusses are generally extremely safe and durable, however they can sometimes fail. It is very important that you are aware of your homes trusses and the potential dangers if they are damaged. Problems can occur if your trusses are exposed to excessive moisture over time that can be caused by failure in roofing materials such as shingles or tile that are installed atop the roof decking. Other problems such as overgrown trees that put unplanned weight on your roof can also be a problem. Termites are the bane of every home owner's existence, and they certainly don't help the safety of your roof.
Most often you have no need to worry about the safety of your roof but it is always a good idea to take a look up in your attic occasionally just be safe.
Hire a Professional Framer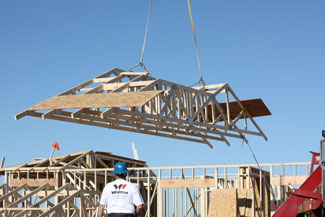 To give yourself piece of mind, hire a professional framer and roofer to ensure proper design and installation of all the components involved. Whitton Framing is ready to help you with all your Roof Truss needs, contact Whitton.
Valley Wide: (480) 291-1112
Tucson: (520) 505-3499