2x6 Construction
Benefits of 2x6 Construction
2x6 construction is defined by the use of 2 inch by 6 inch studs in the construction of exterior walls of the home. A majority of home builders today use 2x4 because of the reduced cost. The 2x6 framing method certainly has an increased up front cost that can deter many people when considering a remodeling project. However, consider the following benefits:
When 2x6 studs are placed 16" on-center you have a much quieter, stronger home because of the thickness of the walls and the increased amount of lumber.
A 2x4 wall allows for only about 3 1/2 inches of insulation giving your insulation rating of R-14. However, a 2x6 framed wall gives you a 5 1/2 inches of insulation or a full R-21 rating.
Significant savings on your energy bill can be had because of significant insulation capacity.
A quieter, more energy efficient home, who wouldn't want that? Analyze your next remodeling project and you just may find that the benefits outweigh the costs and the return on investment will be worth the up front expense.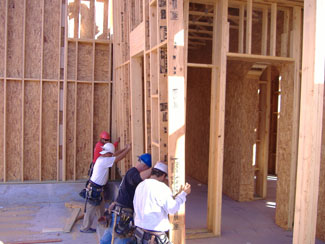 Valley Wide: (480) 291-1112
Tucson: (520) 505-3499